Wowie zowie – what a morning – we're still reeling from the changes in the leaderboard. Even before the XC began, there were three withdrawals: Buck Davidson pulled out with Absolute Liberty, who would have been first out of the start box this morning, & his Pan Titanium, Jolie Wentworth & Killian O'Connor. Then, only two completed the cross-country out of the first seven horses to start this morning! Two retired on course: Andrew Nicholson  (NZL) took out a frangible pin at 9abc – Bridgestone Park Question (coffin combination), picking up 21 penalties, and James Alliston (GBR) and Jumbo's Jake after they accumulated 20 penalties at 9abc – and 17abcde, the Sunken Road. Three were eliminated – Karen O'Connor had a splash crash at the HSBC Water Park (5abcd) – no injuries to horse or rider, just dampened spirits, but Karen has another chance with Mr. Medicott this afternoon. Becky Holder and Courageous Comet got to #22abc, the HSBC FEI Classic Series Normandy Bank, but parted company and Becky bought a cheap piece of real estate that cost dearly in terms of her goals with her wonderful ex-racehorse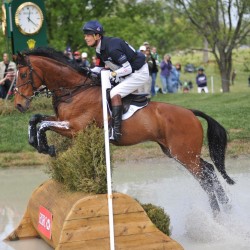 Read more at the source: ROLEX KENTUCKY – AM Cross-Country CH-CH-CH-CHANGES!!!
Article excerpt posted on Sidelinesnews.com from LaurenGallops.
Double D Trailers Info