By Kate Green
The two leading riders in the FEI Classics™ 2013/2014 go head to head in the fourth leg of the series, the Mitsubishi Motors Badminton Horse Trials (GBR), this weekend (8-11 May).
William Fox-Pitt, winner of Pau (FRA) last year and Kentucky (USA) last month, and Christopher Burton (AUS), who triumphed on a catch ride at his home CCI4*, Adelaide (AUS), in November 2013, both have exciting rides at Badminton.
Fox-Pitt, the new world Eventing number one, has a commanding 15-point lead in the FEI Classics™, a series he has won three times before, but there is plenty of time for others to catch up.
He has the choice of three rides at Badminton: Cool Mountain, his 2010 Kentucky winner and world team gold and individual silver medallist, Parklane Hawk, the 2011 Burghley winner, and the striking chestnut stallion Chilli Morning, on which Fox-Pitt won individual bronze at the 2013 FEI European Eventing Championships.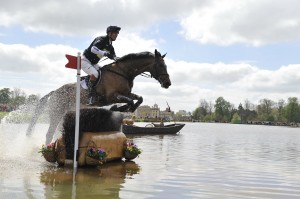 Burton, interestingly, has been reunited with his Adelaide ride, TS Jamaimo, after a group of his owners and supporters clubbed together to buy the 15-year-old thoroughbred for him with this year's Alltech FEI World Equestrian Games™ in mind.
Burton took on the ride just days before Adelaide when the horse's former rider, Will Enzinger (AUS), broke his leg. "It's been a fascinating experience and I feel so lucky," said Burton, who earlier this spring finished fifth on TS Jamaimo in the CIC3* at Belton (GBR). "He's a good-looking horse on the flat and a careful jumper. I can't wait to take him to Badminton."
Around 85 horses from 14 nations will appear before the Ground Jury at the first horse inspection tomorrow (May 7).
The field includes six former winners: Fox-Pitt (2004); New Zealander Sir Mark Todd (1980, 1994, 1996 and 2011), who rides NZB Campino and Leonidas II; Britain's Mary King (1992 and 2000), who brings Imperial Cavalier; and Pippa Funnell (2002, 2003, 2005), who has the choice of Billy Beware, Or Noir de la Loge or Redesigned; plus two Australians: Lucinda Fredericks (2007), who rides Flying Finish, and Paul Tapner (2010) with Kilronan.
Andrew Nicholson (NZL) is celebrating 30 years of competing at Badminton. He first appeared here in 1984 when he rode a clear round on Kahlua and earned a place on the New Zealand squad at the Los Angeles Olympics, but this is one of the few events in the world where victory has eluded him. His best result was second in 2004 on Lord Killinghurst.
This could be Nicholson's year, though. He rides two Spanish-bred geldings, Quimbo, winner of Kentucky last year, and the extraordinarily consistent chestnut Nereo, second at Burghley in 2013.
However, all riders, no matter what their level of Badminton experience, will be facing a new-look Cross Country course. Former six-time winner Lucinda Green has described the track created by FEI Eventing Committee Chairman Giuseppe Della Chiesa (ITA) as: "truly magnificent."
Della Chiesa, only the third Course Designer at Badminton in some 50 years, has used new ground in the Duke of Beaufort's parkland and has produced new fences, including a water complex. He has also recreated the famous Vicarage Vee fence.
The scene is set for a thrilling and fascinating weekend, and one rider is set to make history in Badminton's 65th year.
See the full entry list for the fourth leg of the FEI Classics™ at the Mitsubishi Badminton Horse Trials here, and watch live coverage of the Cross Country and Jumping on the FEI's official video platform FEI TV.
FEI Classics™ 2013/2014 Leaderboard (after 3 of 6 events)
1 William Fox-Pitt (GBR) 30 points
2 Christopher Burton (AUS) 15
3 Maxime Livio (FRA) 12
4 Lauren Kieffer (USA) 12
5 Sonja Johnson (AUS) 12
6 Phillip Dutton (USA) 11
7 Buck Davidson (USA) 10
8 Craig Barrett (AUS) 10
9 Sinead Halpin (USA) 8
10 Shane Rose (AUS) 8
See full standings here.
FEI Classics™ 2013/2014 calendar
1 Les Etoiles de Pau CCI 4* (FRA) – 23-27 October 2013
2 Australian International 3 Day Event (AUS) – 14-17 November 2013
3 Rolex Kentucky Three-Day Event (USA) – 23-27 April 2014
4 Mitsubishi Motors Badminton Horse Trials (GBR) – 8-11 May 2014
5 Luhmühlen CCI 4* presented by DHL Paket (GER) – 12-15 June 2014
6 Land Rover Burghley Horse Trials (GBR) – 4-7 September 2014
Photo Caption: William Fox-Pitt (GBR), pictured here with Oslo at the Mitsubishi Badminton Horse Trials 2013, heads to this year's event as world Eventing number one and leader of the prestigious FEI Classics™ series. Photo: Kit Houghton/FEI.
FEI Photo Catalogue: Images for editorial purposes are available for free download at www.feiphotos.org.
Notes to Editors
Prize money
At the end of the FEI Classics™ 2013/2014 season, the five riders with the highest number of points collected across the six FEI Classics™ events will share a total prize fund of US$120,000 split as follows: 1st – US$40,000 (Series Champion); 2nd – US$35,000; 3rd – US$25,000; 4th – US$15,000; 5th – US$5,000.
Join the FEI on Facebook & Twitter
Our signature Twitter hashtags for this series are #Classics and #Eventing. We encourage you to use them, and if you have space: #FEI Classics™ #Eventing.
The Mitsubishi Badminton Horse Trials Twitter handle is @bhorsetrials and hashtag is #MMBHT
Media Contacts
At Mitsubishi Motors Badminton Horse Trials
Julian Seaman
Press Officer
+44 7831 515736
j.seaman2@sky.com
@bhorsetrials #MMBHT
At FEI
Grania Willis
Director Press Relations
grania.willis@fei.org
+41 787 506 142
Ruth Grundy
Manager Press Relations
ruth.grundy@fei.org
+41 78 750 61 45