Madison, WI, November 27, 2013 –– When Phil Yellott and his wife, Cara, of Red Oak, Texas, decided to get a couple of donkeys to use as guard animals to protect their livestock, they had no idea that within a year, they would be recognized worldwide. They began their search, and soon came across a pair of rare American Mammoth Jackstock geldings for sale on Craigslist – two brothers, ages 7 and 9. Everyone knows they grow 'em big in Texas, and though skinny and underfed, these were truly some Texas-sized donkeys.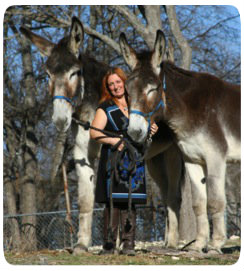 Phil and Cara bought the pair, naming them Romulus and Remus after the twin brothers central to the foundation myth of Rome. They quickly found the brothers to be very close – Phil and Cara say it's like having one giant 8-legged donkey. They began working to get Romulus and Remus socialized and back to full health.
After contacting the American Donkey and Mule Society (ADMS) to inquire about their registration, the Yellotts learned that their new guard donkeys weren't just big, but Romulus, the older and taller of the two, could actually be a contender for the world's tallest donkey! The current record holder was named Oklahoma Sam, who stood 15.3 hands at the withers, and the Yellotts were pretty sure Romulus and Remus were both taller than that. On February 8, 2013, Dr. Valerie Jaffe, D.V.M, visited their home stable, 4C Stables in Waxahatchie, Texas, to take official measurements for the Guinness Book of World Records.
Romulus measured 17 hands at the withers – 5 feet, 8 inches at the top of the shoulder! – A full five inches taller than Oklahoma Sam, and Remus was just two inches shorter than his big brother. On May 13, 2013, Romulus was officially certified by the Guinness Book of World Records as the world's tallest donkey. You can meet him and his "little" brother in person at the 2014 Midwest Horse Fair!
To read more about Romulus and Remus you can visit their website www.worldstallestdonkey.com.
The Midwest Horse Fair is owned by the Wisconsin Horse Council, Inc. All proceeds from the Fair are returned to the WHC and are used to represent and foster a unified equine industry in Wisconsin, promote the equine leadership, education, service, and communication, and to take a proactive role in the future growth and development of the equine industry. For additional information visit www.MidwestHorseFair.com or contact the Midwest Horse Fair by phone at 920-623-5515 or e-mail press@midwesthorsefair.com. To request this information in a different format, please e-mail press@midwesthorsefair.com.