WELCOME TO THE 159th UPPERVILLE  COLT & HORSE SHOW! We love Upperville and while we have not had the pleasure of showing at Upperville, we've known some great riders and horses who have performed under the oaks in the hunter rings and across the street in the jumper rings. There is state of the art footing in the main jumper ring – we think that Tommy Lee Jones, show manager par excellent, has done a fantastic job. We had just a moment to say hello to Tommy yesterday – he's so busy all the time, but if you know him, give him a warm hello, because he and all his people, volunteers and staff, put their hearts and souls into making Upperville a great great show. Here are two links to visit: WUSA9.com story about Upperville and a WUSA9.com Upperville slide show of photos by Teresa Ramsey, official Upperville photographer (with seven taken by yours truly at the end!)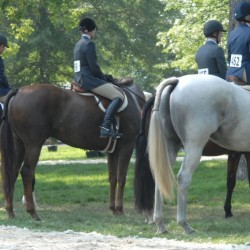 Read more at the source: Upperville – Shady News Tuesday A.M.
Article excerpt posted on Sidelinesnews.com from LaurenGallops.
Double D Trailers Info