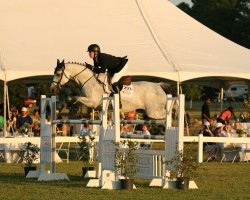 Friday, September 20 2013
by Editor
September 18 th , 2013- The 2013 Aiken Fall Festival horse show series came to a close this past Sunday.  The two week hunter/jumper show ran from September 5-8 and 12- 15 at Highfields Event Center in Aiken, SC and was managed by Equus Events and show organizer JP Godard.   Gold sponsors of this year's event included: The Willcox, The Barn Book, Sidelines Magazine, The Stables Restaurant at Rose Hill, Fenwick Equestrian, Dietrich and Company Equine Insurance The Mark Lexton Collection, DFG Stables, Gamboa Veterinary Services, EquiFit, Inc., One K Helmets, Holley Tractor, Integrity Fine Equestrian Linens Silver Sponsors- Aiken Yoga, CrossFit Aiken, Equine Divine, Finally Farm, Oak Manor Saddlery, Sandra Thomas, The Aiken Horse Hospitality Sponsors- Allison Mills, Beaver River Farm, Booth Parker, Brick Church Farm, Bridlewood Farm, Christison Stables, DFG Stables, Gagne International, Hot To Trot Boutique, Liz Tarumianz, The Willcox, The Stables Restaurant at Rose Hill A special thanks to  title sponsors; Holley Tractor for sponsoring the National Hunter Derby Friday, September 6 th , The Willcox for sponsoring the $15,000 Jumper Classic on Saturday, September 14 th , and The Tack Room for sponsoring Zone 4 Horse of the Year Finals. Friday evening featured the 2 nd annual Bridles and Birdies Relay Challenge which took place out on the grass field.  The event combines two of Aiken's greatest passions, horses and golf.  11 teams composed of professional and amateur riders along with 5 local celebrities all competed in a unique relay that combined a jumping course and a golf related course consisting of several golf challenges.  "I'm super excited by the turnout this year, it's awesome," said Megan Godard, Equus Events.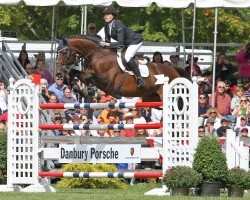 Monday, September 16 2013
by Editor
North Salem, NY – September 15, 2013 – On a perfect day in front of a sold-out crowd of over 4,000, 25-year-old Brianne Goutal added her name to the historical list of riders who have won the $200,000 American Gold Cup CSI4*-W, Presented by Suncast. Thirty-six entries gathered at Old Salem Farm for the international jumping competition, but it was Goutal and her talented mount Nice De Prissey that scored the winning honors after executing a quick and accurate jump-off effort. Tracy Fenney and MTM Timon laid down the first faultless round for second place, while Beezie Madden's speedy four-fault round over the short track earned third with Coral Reef Via Volo.